2nd September 2012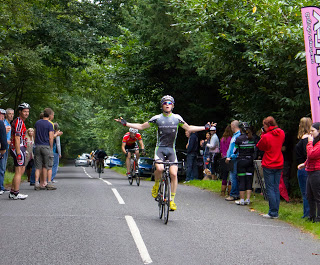 A well deserved win! After so many ups and downs, Phil won the Surrey League 2/3rd Cat race at Cutmill. After settling down near the ponds probably 3 miles from the start  with picnic, deck-chairs and camera all set, who should come flying round the bend? Phil, already in a break with 1 other rider! Now even though he'd been going well for awhile, Phil was just getting over a heavy cold and I couldn't help thinking was this too early.
However, the 2 man break was joined by another 4 riders and they soon stretched their advantage to around 01:30, they looked as if they were working well together but another group of around 6 riders were  chasing really hard and they caught the lead group with 2 laps to go. After lots of attacks, the group now down to about 10 riders hit the long drag to the finish, even though he was cramping badly, Phil didn't let anyone get away and found himself 2nd wheel and with approx. 200 metres from the finish pulled out for the win!
Really chuffed for him and a thoroughly deserved win, awesome.