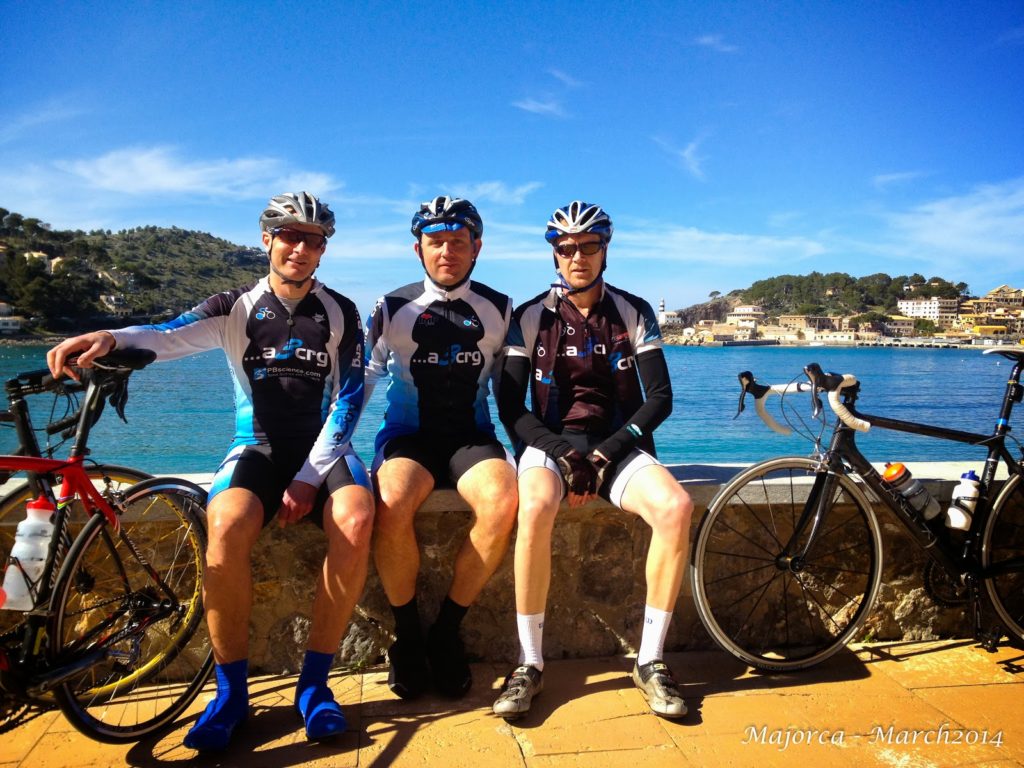 Myself, Darryl and Rob went via Lowcost Holidays and EasyJet to Majorca for the week, staying at the Hotel Club Pollentia near Port De Pollenca was perfect base for the mountains. The resort was excellent and the food extremely good, half-board was perfect and a chance to refuel big-time. Brief diary as follows;
Saturday 1st March
Cut it very fine to the airport, resulting rush ended up with Rob leaving 2 laptops at the airport! Car company gave us a bigger car which was good. Hotel really nice. Weather windy and not warm, went for a 40 mile ride up some reasonable climbs, tussle with Darryl but I gained the upper hand. Hotel food excellent.
Sunday 
Sunny today, less wind and at times very warm. 60 miles and 2000 metres of climbing, cafe stop at Port de Soller which was lovely. Mega climb back up to Soller, climbed really well today, descents were very fast and windy and overtaking cars on the way down! Children at play! Funny moment, Rob gave the waiter a 50€ tip thinking it was a 10!
Monday 
Woke early to see a stunning sunrise, clouded over and started raining, wind also picked up. Eventually got out straight into a very strong head-wind, climbed to the top of Lluc, regrouped after cafe stop and headed to Soller, up hill and windy. Darryl cut short his ride and Rob and myself carried onto Valldemossa along the coastal road which was very hilly, once there we headed home on the flat with a tailwind, TT effort for awhile and then steadier, really knackered with 20 miles to go and sat behind Rob for that last stretch. Really tired at end of ride. 87.3 miles and 2100 metres of climbing.
Tuesday 
Easy ride to Formenta beach except that it was extremely windy and hilly, almost blown off bike. Had lunch at a bike cafe, plus visit to assos outlet. Drove to cap formentor, again very windy.
Wednesday
Tough ride today, 92 miles and 2400 metres of climbing, felt very good today dominating the climbs! Less wind today and generally sunny.
Thursday 
Out to the church in Felantix with Rob. Fairly flat except the climb up to the Church. Felt tired today and tried to keep it below 150bpm, except for the climb.
Friday
Mega day of climbs and mileage, did Sa Colobra, Port De Soller. Stopped for lunch in Port De Soller, massive lasagne which I could feel all the way home. Climbs felt tough today. Rob punctured at Santa Maria, myself and Daz rode back to Selva where Darryl drove back to pick Rob up. I carried on home, 102 miles in total. Rob attacked on the Lookout climb even though we paced him all the way up!!!
Overall it was a brilliant week and would highly recommend Majorca and the resort for cycling.