21st July 2013
Fareham Wheelers Road RacePhil entered this race with 2 other team-mates on the Portsdown Hill circuit on one of the hottest days of the year so far. He was very active from the off and in several breaks, but unfortunately these didn't stick and on the last lap the bunch came together. Holding off the cramp, he still managed an excellent 7th place.
Race 4 life
On the same day Gilly, Gaby and Clare ran 3 miles for Cancer Research at Southsea, excellent run in very warm conditions for a worthy cause.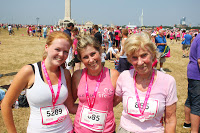 Time-trials – 24th July 2013
After missing a few evening 10s I raced our evening open event on the p881r, going reasonably well until reaching the Prince's Bridge fly over when I was faced with a woman sat in the middle of the road screaming in pain, a car had pulled out in front of her, which was also in the road. Luckily the accident had taken place on the fly over and after the woman had calmed down, the injuries weren't too serious and was driven back to the HQ and then to the QA to be checked over.