2nd May 2014
Phil travelled to Milton Keynes Friday evening to join 4 other CSE team mates for the Phil Corley 3 day stage race which consisted of a circuit race on Friday evening, 60 mile road race Saturday morning, 5 mile team trial Saturday afternoon and an 85 mile road race on Sunday. The race was top quality with elite teams.
Friday
Crit – Milton Keynes bowl
Fast and furious around a tight circuit with only Phil and Tony Gibb staying in the bunch, Tony finished 8th.
Saturday – AM
Circuit race – Cranfield
24 laps of flat tight circuit saw a group of 10 riders get away and towards the end of the race were 2 minutes in front, CSE with a few other teams closed them down to 20 seconds to keep it close.
Saturday – PM 
TTT – Cranfield
You guessed it – fast and furious with CSE in the top ten.
Sunday
Road race – Astwood
Undulating course with no major climbs saw another very fast race (over 26mph average for 85 miles) saw another early break. Towards the later part of the race, Phil punctured and was joined by Tony and George? to chase back on behind the team car, this coincided with the bunch upping the pace to catch the break and it took them a few laps to rejoin the bunch. Coming up to the finish was manic and ended in a bunch sprint, CSE were wise and stayed safe in bunch.
Very tough racing of a very high standard, but so good for Phil to be racing for proper organised team.
Team work..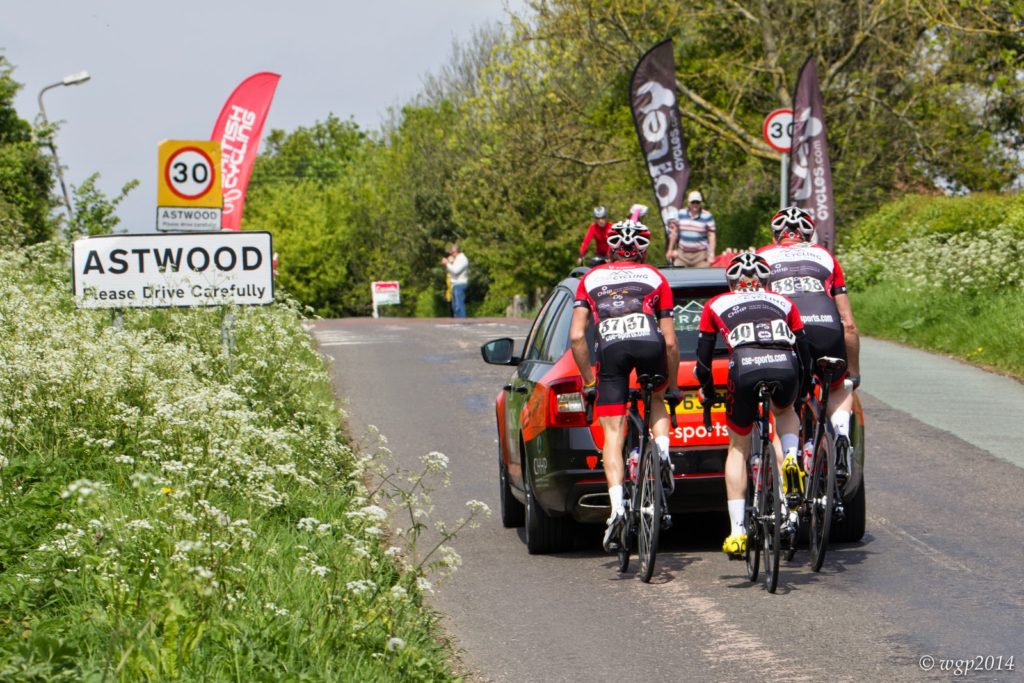 At the finish..